Colorado Web Design Agency
Simple and Effective Website Design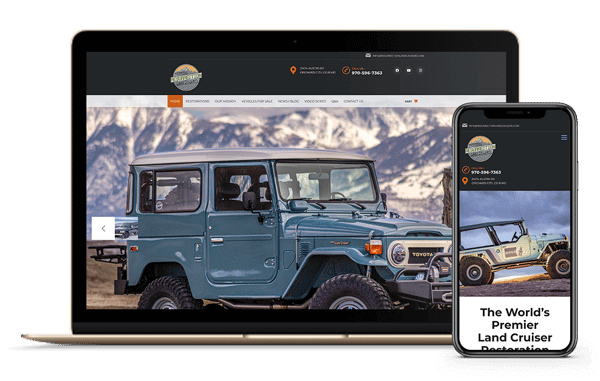 Free Evaluation
It's hard to find a reliable website company that follows Google best practices.
We build websites that withstand the test of time.
We'll run a full diagnostic on your existing site for free.
Clear Call To Action
Clear Messaging
Clear Images
Professional Website Design
Do not let your competitors website look better than yours!
Want the best Colorado web design agency? With Clear Skies Marketing Group, you can ensure that your small business website has the best practices of 2023. Our Colorado-based website design team is passionate about delivering exceptional web design projects catered to your company.
We understand how important it is for small business owners to stay ahead of the curve and succeed in an increasingly competitive digital market, which is why we customize each web design project to fit your business's specific needs. We are confident that Clear Skies Marketing Group can provide the perfect solution.
Colorado Web Design That Is Creative and Unique
Our websites are unique for reach client, ensuring that their primary goal drives the website design.
We design with WordPress for SEO and Shopify for E-Commerce.
Hubspot, Salesforce, Google Ads/Tags, Meta Pixel, Mailchimp, and more can be easily integrated into your website.
Dedicated Customer Support
The creation of the website is just the beginning of our relationship.
Monthly packages are available for updates, management, and hosting. We also offer other website services such as local search optimization and website SEO.
Better Website Analytics
We offer integrations that allow for better analytics to make better decisions about your website. Heatmapping software can tell us exactly how people are interacting with your website. These insights give us what we need to create a better user experience.
Frequently Asked Questions
How long does it take to design a website?
2-4 weeks for 5 page websites and 4-8 weeks on larger websites (approx. 20 pages.)
How much does a website cost?
$2,000 – $20,000 depending on the size of your site and integrations.
Do you require a deposit?
Yes, 50% is required to start and 50% is due on completion.
Do you connect Salesforce?
Yes, we can connect Salesforce and other CRMs into your lead capture forms online.
Do I need my own hosting?
No, we provide hosting that guarantees 99.9% uptime.
Do your websites pass speed testing?
Yes, every website passes speed tests to optimize for mobile loading.
Do you provide analytics?
Yes, we pride ourselves in providing metrics to our clients.
Do you outsource?
No, we work in-house in Colorado.