This live event was recorded on January 19th 2023. Thank you to all who attended!
Roadmap to Digital Success
Local Search – Signe @ 7:00 Min
Website SEO – Eric @23:40 Min
Social Media – Matt @36:00 Min
Hashtags/Content/Conclusion – Eric @44:50 Min
1: Local Search
This section is significant for service businesses trying to reach a local audience. We will focus on businesses with a brick-and-mortar shop and how you can rank higher for your services. It is harder to rank locally without a physical location, but we will cover that separately. You'll need to start by creating profiles or updating profiles in the following geo-directory databases:
Google My Business
Bing
Yelp
Facebook
Apple
Small Databases
In 2023, Google requires at least two database verifications, so they must be consistent across the multiple platforms listed above with the same business name, hours, phone number, etc.
Google My Business
The single most important local search database, GMB, helps you show up on maps when people search for "Services Near Me." On this one, we want to focus on creating a full 750-character description that is keyword rich. After that, it's essential to fill out as much as possible for open hours, services, pictures, etc. Keep in mind the keywords that people use to find you as that will be essential to fill out the description and the services.
Side Rant: PLEASE be consistent with your hours and update them on Google when you will have closures. I hate showing up to a restaurant and they happen to be closed on Tuesdays for the month of February with a piece of paper on the door saying the staff is tired.
Since GMB only allows for 750 characters, we will use the "Updates" as a way to increase the keyword count in your profile. When creating updates, we'll add more descriptions with pictures. Here are some examples of pictures we've added to a client's google page as updates.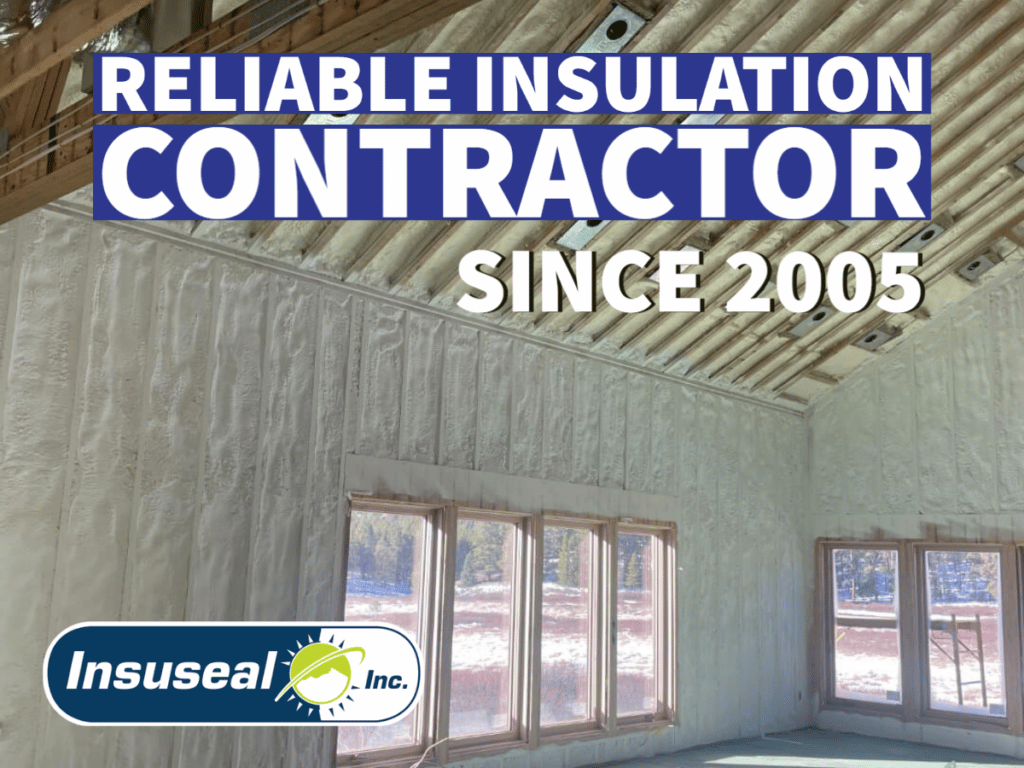 Insuseal has been providing insulation services in the Gunnison Valley since 2005 with owner, Greg Blanco behind the wheel. They specialize in large-contract insulation jobs in new construction condominiums and custom homes in Crested Butte.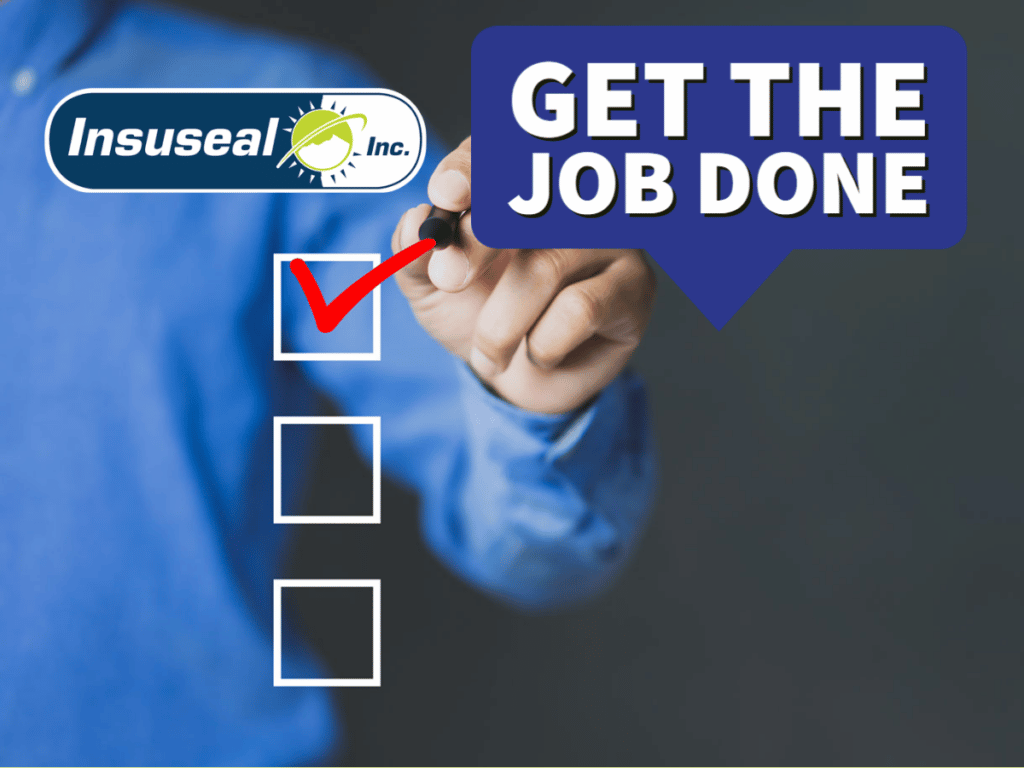 Insuseal gets the job done right, time and time again. For 18 years we have been providing quality service to contractors and homeowners in the Gunnison Valley. From blown-in insulation to rockwool, we understand the needs of Gunnison and Crested Butte's cold temperatures.
The Importance of Reviews
In Google, reviews need to happen at least once a month for your profile to be considered "active." In the same breath, showing more reviews also gives your profile more strength to rank higher in several key ways. One way is to increase keyword count when clients talk about how much they loved your services. Another way is increasing potential client trust. We can leverage this area, the area in which users start their journey to finding a "service near me" to immediately build trust that other people in the world like your services.
How to get Reviews
Just ask. Many people have asked me "How do you get your client's customers to write reviews?" and the simple answer is that we just ask. Some clients are set up to automatically ask for reviews after an order is placed, others get an e-mail after it has been submitted from Quickbooks, and others are just manually asked "How did we do?".
When we ask for reviews, it's often more personal. We ensure to include a key piece of the project and remind them that Google reviews are really helpful for small businesses. It's also helpful to grab the link from your Google My Business profile under "Ask For Reviews" and include that in an e-mail or text to make it as easy as possible for your customer to click and write.
"Hi John, I'm so glad we were able to get that project completed by Feb. 5th like we had discussed. I also really like your feedback of changing that header from red to blue as it really captured your brand better. Please let me know if you have any other questions or concerns as your feedback is greatly appreciated. As we've talked about with local SEO, it's really helpful for a growing agency like ours to get feedback in a public format. Would you mind taking a minute to write a quick something to show other potential clients that we deliver? Here's a link to our Google reviews: https://g.page/r/CZQS36PQzQetEBM/review . Thank you again and I look forward to working with you on our next project".
Responding to Reviews
Here is another opportunity to include keywords in your responses and show Google that you are active on their platform. Try to respond to every review within 24 hours and if you haven't responded to any reviews up until this point, take the time to respond to at least one review a day to show that you value your client's feedback.
Changing Location
When you change locations, it's important to review your major 5 geo-directories and also submit the changes to sub-directories. There are approximately 55 directories online that help distribute your address. https://moz.com/products/local/check-listing is a great place to check to see if all of these 55 directories have your correct address and offer a way to pay to have the new address submitted to all of the directories. These directories pick up your address over time from the big 5, but it's a quicker way to get the address changed.
2: Website
Your first step in creating a solid web presence is ensuring your website is SEO-friendly. Create a solid foundation with your website by checking off the following points:
Hosting
Theme
Images
Keywords
Titles and Headings (Keyword Placement)
Content
Hosting
Hosting plays a big role in website uptime as well as loading speed. Google is checking to ensure that your website can serve adequately on mobile, and having fast loading speeds is as essential as ever. Avoid the $5/month hosting provided by GoDaddy, Hostgator, Bluehost, etc., because they will be slow and share multiple resources with other companies.
You can do a speed test check on your website to see if it is passing Google's test: https://pagespeed.web.dev/
Look for an error that says "slow server times" to see if your hosting is a problem.
Theme
With that same test, we can also determine if your theme is a problem with loading times. You'll see things like "avoid render-blocking resources." Most theme creators built Wix, Squarespace, and WordPress themes to be easy to use, but most didn't consider the loading times associated with these heavy themes.
Most of the time, the server and theme are the least of our client's problems, and images are the big culprit to slow loading times.
Images
Most of our clients, and previous developers that have worked on our client's sites, upload an iPhone photo that is 3MB in size. These images are often way too large to load on mobile and crash a user's phone, leading to a loss of potential clients. The website theme or area you are putting an image into will tell you what the pixel size should be.
Pixel Size vs Downloadable Size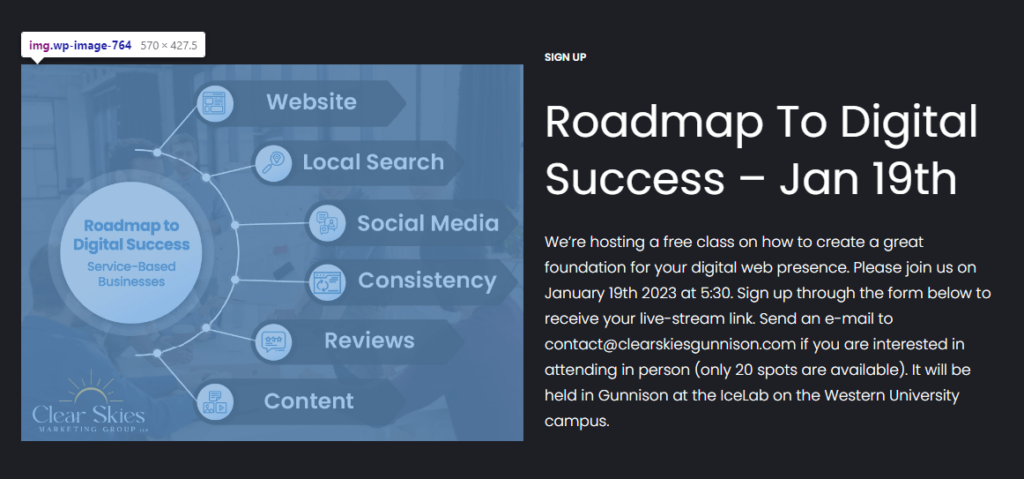 We can see in this example from the home page that the size displayed for this image is 570×427.5px . If you are uploading a phone photo, then it will be around 2,000px wide, and therefore, the browser needs to take time to resize that image. We want to upload an image to the website that is the same size that it will be served at. On top of the final pixel size, we also need to look at the resolution or downloadable size.
There's a free website that automatically compresses an image for you. https://tinypng.com/ will take an image (that's already been properly sized for pixel width and height) and compress it for better mobile viewing. This website does it without compromising the quality of the image and keeps it very sharp.
We can also achieve this pixel and download size with specific outputs from Adobe Lightroom, Photoshop, and Illustrator.
Keywords
The words used on your website are incredibly important for search engines to comb through and find what the searcher is looking for. If you want people searching to find your company by your company name, you'll want to have your company name listed in various places around the site. If you want new people to find your site through your services, you'll need to have those keywords listed in important locations instead of your business name.
When we onboard clients, we use a keyword search tool to see how many people are looking for services in a particular area. For this example, we will use RV Parks.
We look at the wide search of "RV Parks Colorado" to see that there are 1-10k searches per month with low competition. This means there are not a lot of people using these words on their websites. We then dive deeper by looking at more localized search terms of "Gunnison RV Park".
If we search "Gunnison RV Park" to see which campgrounds are using this in the title of their website, we find that one company is already utilizing this search term by owning the website URL gunnisonrvpark.com.
This is a smart move to own keywords in the domain and the title (we'll review that in the next section). It's smart because they can reach further than just brand searches of "Tall Texan RV Park" but into the entire search for people looking to RV in Gunnison.
Titles and Headings
Search engines read pages like this:
Title
URL
Heading 1
Heading 2
Heading 3-6
Bold, Italic, Link
Paragraph
We want to include your keywords and keyword phrases in these areas to serve up a more organized view for search engines. Think of it like a book with chapters. It's easier to skim when there are headings, subheadings, and proper titles in the book. As the bots skim your book (website), they want to know the main points.
This page has been structured in a way that makes it easier for you to understand, at a glance, what information is included and headings to allow you to jump to a section you may want to read more about.
Content
Consider content like "landmines" for potential users to step on. The more content you have on your website, the more opportunity your website will show up in searches. You'll see Google serve up something like "this site mentions sign shop" when the page title doesn't include "Sign Shop." You want your basic services, examples of services, and a solid call to action. After you have a 5-page website established, you'll want to update it regularly.
Updated Content
As you follow through this series, you'll see content updating is important on your website, local search, and social media. Search engines want to serve fresh information to their searchers, and you can take advantage of that by keeping your site up to date.
Websites should stay on a schedule of once-a-week updates. This can be done by adding a post, an example of a completed project, updated content to an existing page, or a video to an existing page.
4: Content Is King
As Bill Gates predicted, "Content is King". Are you making content for users that is worthy of their time? Are you just trying to sell or are you trying to better someone's life with the information that you provide? Not every piece of content that you create needs to win the Pulitzer prize, so don't let that stand in your way. Sometimes you can add value to someones day just by posting something you do that you've done a thousand times, but the consumer has never seen before. People love to watch time-lapses of walls being painted, homes coming together, or a nifty trick to use in their garage.
When deciding what content to come up with on your website, social media, etc. we always start with your FAQs. What questions to be people ask often and how can you answer that for the next potential customer? In this particular event, I've combined my top questions with answers and turned it into a marketable event. This event was shared by the Chamber of Commerce newsletter, Icelab newsletter, Region 10 newsletter, the newspaper, and featured on Facebook. I'm trying to add value by sharing knowledge that would be helpful to business owners.
We can then take this content and share it in small bites across social, google updates, website blog posts, and short-form video.
Can you provide value beyond your normal services? Are you willing to share "behind the scenes" footage of your day-to-day activites?
Stop the Scroll
This phrase is thrown around a lot in the marketing industry. We want to create content that grabs a user's attention. We want them to watch our video for more than 2 seconds without swiping onto the next video. For this part, we need to think like our target client.
Thank you for Joining!
We all greatly appreciate you taking time out of our busy schedule for joining our live event. If you are interested in more upcoming events, please sign up to receive updates on our next live event as well as helpful information in digital marketing for your business.
Need Help?
If any of this makes your head spin or you want to get started on digital marketing, but don't have the time, please contact Clear Skies to get started.